Meet Picasso and Pablo
PICASSO the Wonky Dog
I saw this dog's photo at the Porterville animal shelter and knew he had to come to Luvable…!!!! Then I found out he was on the euthanasia list. Then I found out he had a "normal looking" brother who was also on the euthanasia list. Both dogs had been surrendered to the shelter by their breeder/owner.
I couldn't imagine taking one boy and not the other. So we got them both out and now they are here, safe, at Luvable Dog Rescue in Oregon and they are both just awesome dogs!
We named them Picasso and Pablo, and Picasso's amazing face has already received a lot of attention!!!
Below are links to the stories from some of the biggest on-line social media makers!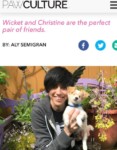 Please read this inspiring story about our amazing Puppy Care Staff member, Christine Lagos, and "Wicket" a puppy rescued by Luvable who was born without eyes….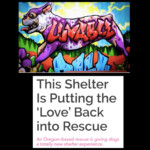 Please read this recent PAWCULTURE story about what makes Luvable such a special place:
http://www.pawculture.com/get-inspired/phenomenal-pet-people/this-shelter-is-putting-the-love-back-into-rescue/
Local News Stories:
http://kval.com/news/local/picasso-the-dog-undergoes-successful-dental-surgery
http://kval.com/news/local/story-of-eugene-dog-with-facial-deformity-goes-viral-will-be-adopted-out-with-brother
http://registerguard.com/rg/video/35364286-319/a-picasso-of-a-dog.html.csp
http://www.kezi.com/story/34726954/world-goes-crazy-over-eugene-dog
http://kval.com/news/local/story-of-eugene-dog-with-facial-deformity-goes-viral-will-be-adopted-out-with-brother
The DoDo – https://www.thedodo.com/dog-with-deformed-face-2290753524.html
Buzzfeed – https://www.buzzfeed.com/bradesposito/picasso-the-doggo?utm_term=.uxr7vkRj0#.ayL2qv5G1
Barkbox – https://www.facebook.com/barkbox/videos/1299709316731783/
Huffington Post – http://www.huffingtonpost.com/entry/picasso-dog-adopt_us_58b7463ee4b0284854b3c840?r4v4pldi\
We have been swamped with offers from people from all over the country to adopt these boys. We really appreciate the amazing show of love and appreciation for these special dogs!  We ask that people be patient with Luvable as we are doing our best to respond to inquiries while also continuing to run our Rescue and provide for the everyday needs of all of our other dogs! At this time, Picasso needs dental surgery and we would like to get him through any required medical treatment and healthy before considering what type of home will be best for him and Pablo. They do need to be placed together.
Please check back on our website for Picasso updates and we will let everyone know when we begin taking applications!
Thanks for your support and love for these amazing dogs!
Luvable Dog Rescue Featured in People Magazine
Read the story here.
Luvable Dog Rescue Featured on Good Morning America!
Shelter Builds Colorful Cottages for Its Pups Instead of Cages
Read full story here.
Luvable News Flash
Luvable is grateful to David Avacado Wolfe, for his sweet video about our work at Luvable that has had over 30 MILLION VIEWS in two months!!!!
Hope you enjoy this video about our special dog rescue in the woods of Oregon!!!
https://www.facebook.com/DavidAvocadoWolfe/videos/10153950132056512/
This Shelter Gives its Pit Bulls Cottages, Not Cages
For some very lucky pit bulls in Oregon, their time in a "shelter" is more like time spent in a cozy cabin at summer camp.
These dogs have a total of 55 acres of land — including forest, meadows, hiking trails, and a small country road — which they can use to decompress and feel at home while they're waiting for an adopter.
Within the wooded acres, pit bulls have their own private cottages. The cottages offer indoor and outdoor space, and while each dog lives separately, shelter staff give the dogs time to socialize, too.
Read entire article on PupJournal.com
Dogs Available for Adoption


Click this phone icon button for a Mobile Friendly Version