DONATE TODAY!
We THANK YOU for your support!
Because we are a 501 (c)(3) nonprofit organization, your donations are tax-deductible.
Our EIN # is 81-0607118.
If you are having technical problems go directly to
https://www.paypal.com/
Donation e-mail: lieslhardt@gmail.com
You can also mail a check to:
Luvable Dog Rescue
P.O. Box 50367
Eugene OR 97405
We couldn't do this work without you. With the help of our generous donors, we obtain veterinary care, pay for our facility day to day operations and maintenance, and provide for all the needs of our rescued dogs . If you would like to discuss different ways you can donate please e-mail us at info@luvabledogrescue.org .
We have a GOFUNDME Medical Fund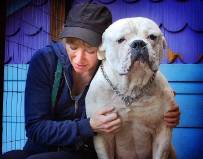 Sometimes  dogs come to us  in desperate need of extensive medical care. Vet bills cost thousands of dollars a year.  Thanks to your contributions, Sully is one example of the many dogs we have been able to bring back to health after neglect.  Sully has found his FOREVER HOME and will never have to suffer again.
We have saved close to 2000 dogs.
To continue our mission saving animals, we rely on YOUR support.
Planned Giving Opportunities
Estate Planning
A "planned gift" is a broad term that includes appreciated securities, charitable trusts, life insurance, and property. Planned gifts often provide lifetime monetary benefits to the donor, along with considerable tax savings. Luvable Dog Rescue offers a variety of planned giving opportunities designed to meet the individual financial needs of the donor while also saving the lives of animals in need.
Bequests
One of the simplest ways to make a planned gift of cash, property, or any other assets to Luvable Dog Rescue is to make a "bequest" in your will or trust. Giving through a bequest lowers your federal estate taxes because assets donated to Luvable are deducted before the estate tax is calculated. If you already have a will, your lawyer can usually add a codicil to include Luvable Dog Rescue and your gift plans to us.
Many people also hope that Luvable Dog Rescue will take over the care of their pets should they pass away. This can be arranged through our Pet Bequest Program, which guarantees unconditional acceptance of your dog or cat into Luvable Dog Rescue for priority care until a new, compatible home is found.
We Appreciate Your Support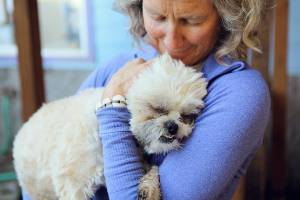 There are many ways to include Luvable Dog Rescue in your estate planning.  We are a 501(c)(3) nonprofit organization, so there are benefits to you when you give to us.
We appreciate donations of any amount and any type to help us continue our life-saving work.  We receive no government funding, so it is people like you, who love animals and wish to help others who help animals, who keep our doors open.  In return for your gift, Luvable Dog Rescue can promise to provide outstanding life-long care and rehoming services to your own personal animals after you pass away and continue to provide rescue, rehabilitation and rehoming to an unlimited of deserving shelter dogs.
Donate Items from our Wish List
Donation Wish List:
Dog Food

High quality canned puppy food  

Collars (Lupine Martingale)

Harnesses (Medium and Large) 

Leather leashes (6′)

Towels (all sizes)

Blankets (all sizes)

New or gently used dog beds (all sizes)

Laundry soap

Paper towels

Bleach
Check out our Amazon Wish List to see some specific items for our Rescue Dogs that can be purchased online and shipped automatically to us.  You can sort by priority too, in case we are desperate for anything in particular.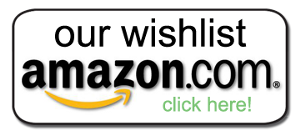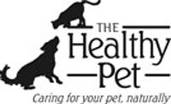 If you live in the Eugene area, please purchase needed items from our wish list and drop them off at:
The Healthy Pet (2777 Friendly St., Eugene, OR.