Luvable Dog Rescue has new Merch! Make sure to visit our Etsy page to order yours today and show your LUV and support for the Luvable Dogs!
What a great way to show your support and get near gear. ALL of the sales go directly to the care of our Luvable Dogs! It's a great excuse to go shopping! 
There is still time to get your Pablo and Picasso or Pika "Out of the Hole" 2018 Calendars! Here is what people are saying about them:
"Being from the UK, both myself and my husband have been huge admirers of Pablo and Picasso on social media. So to see his face when he opened his late Christmas present, he was truly over joyed! Thank you Luvable!"
"Looking forward to seeing a new Picasso and Pablo each month! I love it….thanks!"
"Yes I love it , LOVE pika!!!!"
"Beautiful calendar, TONS of photos, Love supporting Luvable!"
Meet Picasso and Pablo
PICASSO the Wonky Dog
I saw this dog's photo at the Porterville animal shelter and knew he had to come to Luvable…!!!! Then I found out he was on the euthanasia list. Then I found out he had a "normal looking" brother who was also on the euthanasia list. Both dogs had been surrendered to the shelter by their breeder/owner.
I couldn't imagine taking one boy and not the other. So we got them both out and safe and brought them to Luvable Dog Rescue in Oregon!
We named them Picasso and Pablo, and Picasso's amazing face has received a lot of attention!!!
Thank you for following Picasso's amazing journey. Sadly, we lost his brother, Pablo in October when he died suddenly of an unpreventable brain aneurysm. Picasso is courageous and resilient and is continuing on with his training to become a therapy dog and assist Luvable Dog Rescue in its humane education program. Picasso is only 18 months old and has just begun his long life of service and adventures!
Pablo and Picasso have their very own 2018 Calendar available for you to purchase today! Visit our Etsy Shop to order yours now!
Picasso's latest stories have spanned the globe!
Picasso had an update done on the dodo!!!
Picasso made the BBC World Service News! 
UK News: Rescue Dog Called Picasso Because of His Strange Jaw Finally Finds a Home
NY Post: Unusual Dog Destined for Death Gets Another Chance
The Sun: Dog Named After Picasso Because of His Wonky Face Trains as a Therapy Pet to Aid the Sick
Daily Mail: Picasso With His Wonky Face
Please check back for more updates on Picasso's future as a therapy dog! Thank you for all your support of this amazing dog!
Check out the amazing story on
The Dodo about Rocky and Champy
. Both dogs are Luvable adoptees! Rocky was found with a belly full of rocks likely due to extreme hunger.
PAWCULTURE's inspiring story
 about our amazing Puppy Care Staff member, Christine Lagos, and "Wicket", a puppy rescued by Luvable who was born without eyes.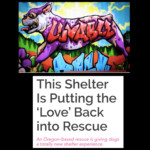 PAWCULTURE's story about what makes Luvable such a special place:
If you missed any of Picasso's earlier media stories – we saved some of the best ones!:
KVAL News: Local Pablo and Picasso Story
Register Guard Video of Picasso
KVAL: Story of Eugene Dog with Facial Deformity
The Dodo: Dog With Deformed Face
Barkbox Videos of Pablo and Picasso
Huffington Post: Dog Abandoned Over His Looks
KVAL News: Picasso Undergoes Successful Dental Surgery
Thanks for your support and love for these amazing dogs!
Thanks to Verizon for producing "How Rescuers are Giving Dogs and Cats a Second Chance at Life" Showcasing Luvable Dog Rescue and our transport partner, START, located in Los Angeles.
Luvable Dog Rescue Featured in People Magazine
Read the story here.
Luvable Dog Rescue Featured on Good Morning America!
Shelter Builds Colorful Cottages for Its Pups Instead of Cages
Read full story here.
Luvable News Flash
Luvable is grateful to David Avacado Wolfe, for his sweet video about our work at Luvable that has had over 30 MILLION VIEWS in two months!!!!
Hope you enjoy this video about our special dog rescue in the woods of Oregon!!!
https://www.facebook.com/DavidAvocadoWolfe/videos/10153950132056512/
This Shelter Gives its Pit Bulls Cottages, Not Cages
For some very lucky pit bulls in Oregon, their time in a "shelter" is more like time spent in a cozy cabin at summer camp.
These dogs have a total of 55 acres of land — including forest, meadows, hiking trails, and a small country road — which they can use to decompress and feel at home while they're waiting for an adopter.
Within the wooded acres, pit bulls have their own private cottages. The cottages offer indoor and outdoor space, and while each dog lives separately, shelter staff give the dogs time to socialize, too.
Read entire article on PupJournal.com
Dogs Available for Adoption


Click this phone icon button for a Mobile Friendly Version