DONATE TODAY!
A donation can be sent through PayPal
Visit our Etsy Shop
Please visit our
Etsy Shop
to purchase T-Shirts for women and men with our awesome Luvable logos!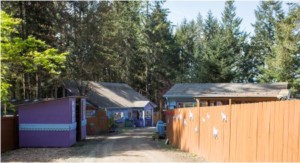 Address:
Luvable Dog Rescue
P.O. Box 50367
Eugene OR 97405
Luvable Dog Rescue is not a public shelter and therefore not open to the public. We are a private rescue and all visitors must be scheduled by appointment only. Once you have been approved as an adopter or volunteer you will be given the physical address.
Please note: Luvable Dog Rescue DOES NOT TAKE OWNER SURRENDERED DOGS or drop offs UNLESS they were adopted through our rescue.

Please contact your local shelters/ humane societies about their owner surrender policies. If you are from the Eugene area please contact 1st Avenue Shelter-Greenhill Humane Society at 541-689-1503.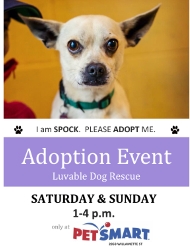 ADOPTION EVENT!!
Every Saturday and Sunday 1-4 p.m. at PetSmart 2858 Willamette St.
MEET OUR PARTNERS