PIKA
from
@pika_outofthe_hole
 
Please take a moment to watch PIKA's Story in this short YOUTUBE clip.

Thanks to Claire Colby for volunteering your time to produce this short 2:45sec clip.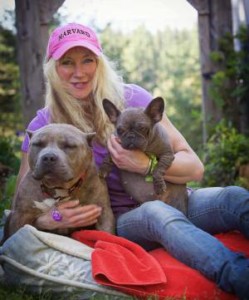 Our amazing little Frenchie was found in January of 2015 when police raided a suspected "chop shop" in an L.A. neighborhood. Imagine their surprise when they moved a piece of plywood and found a hole underneath, with a French Bulldog at the bottom of it! She was filthy, hairless, and had obviously been living in deplorable conditions for a long time. The police confiscated her and took her to Riverside County Animal Services (RCAS), where the neglected dog won hearts immediately. Staff and volunteers took photos of her, shocked by her physical condition but amazed at how friendly and loving she was. The hair loss was caused by untreated demodex mange. She also had skin, ear, and eye infections. Her teeth were blackened and dirty, and her toenails were long and curled under from so many months unable to walk.
RCAS decided to send her to "Luvable Dog Rescue" in Eugene, Oregon for rehabilitation. Over the years, Luvable Dog Rescue has saved hundreds of dogs from L.A. shelters and had a long and exemplary relationship with RCAS. They knew she would receive lots of love and excellent care at our rescue.
The LUVABLE staff fell in love with the odd looking little dog with the unconquerable spirit. She was more than ready to leave her life in the hole behind her, but the name "Pika" just seemed to fit her. A "Pika" is a type of ground-dwelling rodent. In personality, however, Pika was ALL French Bulldog – outgoing, happy, and playful. She loved every person and dog she met.
Pika was taken to three different veterinarians, who addressed her various health issues, all of which are treatable. At this time, Pika is still fighting mange, but some hair has returned. She is growing some fuzz on her feet and the top of her head. Thankfully her vision was not permanently impaired. Her teeth have been cleaned. Now that she is healthier, we estimate her age at about three years.
We don't know exactly how long she was living with the car thieves in a hole in the ground. The last we heard, her captors were not going to be prosecuted for animal neglect or abuse because sadly, there just are not resources available to pursue cases like this.
We don't know where Pika originally came from. But Pika's future should be bright! The Executive Director, Liesl Wilhardt, of Luvable Dog Rescue took Pika to her home and Pika fit in right away with Liesl's existing dog family.
Pika loves to play with her bald best friend, a toy Xoloitzcuintli mix named "Baldwynn". She also loves to eat, chase tennis balls and go for walks in the woods. At first, Pika could not walk further than a block or two. Today, she can hike for an hour in cool weather with no problem. She may always have some health issues and we have no idea how much of her hair will grow back. But Pika has been officially adopted by our Executive Director, and has assumed the role of mascot and Rescue Spokesdog.
Pika hopes to bring attention to the condition of other homeless dogs, promote adoption, and give back to the Rescue that saved her. She reminds us that no matter how difficult life can be, to never lose hope. Pika's spirit had not been broken. Somehow she survived that lonely, dark place, and did not lose faith in people. Pika and her Rescue Family appreciate any support and donations to help save dogs like Pika. Please follow her on Instagram: @pika_outofthe_hole (www.instagram.com/pika_outofthe_hole).